Let's get you up to speed on the most frequently asked questions about the Dream Sock baby monitor
Understanding Base Station Prompts
The Base Station uses lights and sounds to notify you if Baby is uncomfortable, the Sock connection is not stable, or if the Sock needs adjusting on Baby's foot.
When receiving readings, the Base Station will glow green. Here's what else to expect from your Base Station:
Lavender Sleep Assist Prompt
A lavender prompt from the Base Station and on your phone indicates that Baby may need assistance to sleep better. This may occur when there is significant crying or movement, when the baby is uncomfortable, or if the room is too hot, too cold, too humid or too dry.
Blue Prompt
If you receive a blue prompt, that means the connection between the Dream Sock and Base Station has been interrupted. A blue prompt means the Dream Sock may be out of range, out of battery, or the signal is being blocked.
Yellow Prompt
A yellow prompt means the Dream Sock is having difficulty getting a reading and may need adjusting. Check the fit and/or placement of your baby's Dream Sock to ensure the Sock can gather sleep data.
Still have questions about prompts and the Base Station?
Putting on the Owlet® Dream Sock™ Baby Monitor
1. Place the notch in the Sock behind the pinky toe on the outside of the foot.
2. Secure the toe strap around the foot above the toes.
3. Then wrap the ankle strap around the back of the ankle and secure it on top of the foot. Ensure that the ankle strap covers the full strip from the ankle to the top of the foot.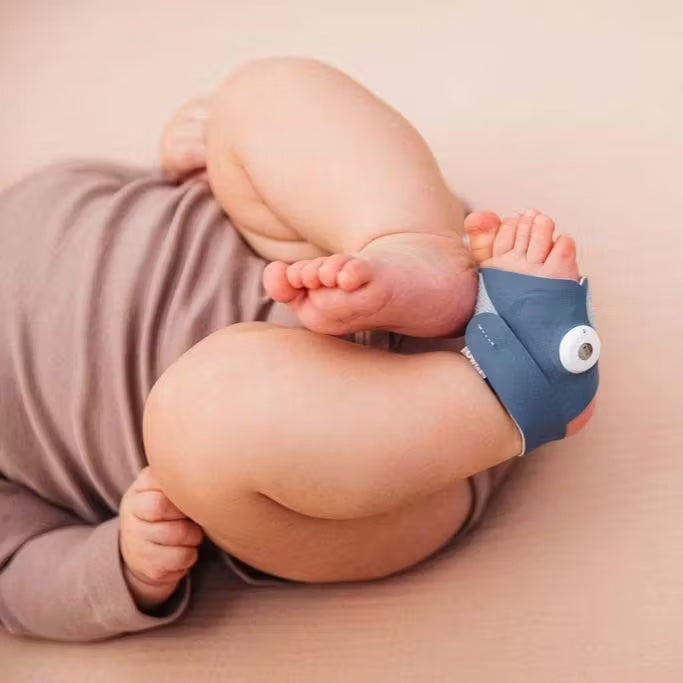 Ensure the Sock is Comfortable on Baby's Skin
Make sure Baby's skin is not damp, allowing lotions & creams to dry before using the Sock.
Alternate feet each night
Make sure it's not too loose or too tight
Clean your Sock at least every 2 weeks to keep it clean
Socks can wear out over time. If yours gets worn out or if you want a clean sock on laundry day, consider ordering additional Fabric Socks.
Predictive Sleep Technology
What is Predictive Sleep Technology?
Predictive Sleep Technology is a tool that leverages Owlet's unique algorithm to automatically calculate Baby's next sleep session based on their age, time slept in their prior nap, and how long it's been since their nap. Then, their next nap time is displayed in the app, on the home screen, so you can better plan your day.
How do I use it?
Predictive Sleep will automatically track Baby's sleep & wake windows for you if Baby is wearing their Dream Sock for each sleep session. If you miss a sleep session, you can manually add it in the Dream App to get current sleep recommendations current.
Why is Predictive Sleep Technology important?
Baby's sleep needs & habits change as they age - this can be very difficult for parents to keep track of, or to understand what Baby needs when they are going through a change in their sleep needs. Predictive Sleep takes the guesswork out of naptime and helps you anticipate Baby's needs before they are overtired.
Best way to make this part of your bedtime routine
Put the Sock on right before bed
Don't use while feeding or while baby is awake. The Dream Sock learns about your baby by tracking their data while they sleep. Using while Baby is awake can lead to inaccurate readings.
What is Predictive Sleep Technology?

Predictive Sleep Technology is a new tool in the Dream App available for all Cam 2 and Dream Sock users. Predictive Sleep takes data like baby's age, the last time they slept, and how long they slept to calculate their next ideal bed time. Predictive Sleep tracks wake & sleep windows so you don't have to.
What is a Sleep Quality Indicator?

A Sleep Quality Indicator is a measurable statistic the lends insights into how well your Baby is sleeping. With the Dream Sock, we track heart rate, average oxygen level, noise, wakings, room temperature, humidity, and movement to determine if Baby is getting quality sleep. Our proprietary algorithm gets to know your baby by tracking your baby's Sleep Quality Indicators to learn your baby's sleep baseline. If your baby's sleep indicators differ from the expected baseline, you will receive a "Sleep Assist Prompt" on your Base Station and in the Dream App letting you know baby may be uncomfortable or need help getting back to sleep.
How do I insert the Sensor?

After selecting a size, make sure the Sensor is properly attached to the Sock. The notch on the sensor should line up with the notch in the Sock.
Can you wear the Sock under footie pajamas?

Yes! Just make sure the Sock is directly next to the skin. We recommend using your best judgment selecting pajamas that are not too tight or too hot. Excessive moisture and pressure may cause skin irritation on baby's sensitive skin.
How tight should the Sock be?

The Sock should be securely and snugly placed on your baby's foot but not too tight. If the ankle strap doesn't fit all the way on the pad, you may need to move up to the size 2 Sock.
Which fabric Sock should I use?

Your Dream Sock baby monitor came with four fabric Socks. Please reference the chart below when making your choice. Please remember, weight is typically a more accurate guide when selecting the proper size.
How long does the battery last?

The Owlet Dream Sock baby monitor has wireless drop-and-go charging that allows you to get an 8-hour charge in under 20 minutes, and a full 16-hour charge in 90 minutes!
Can my baby wear footie pajamas, a swaddle or a sock with the Owlet Dream Sock?

Yes! The Dream Sock is low profile and fits under a regular sock, footie pajamas, or in a swaddle. Make sure the Sock is in direct contact with your baby's foot and properly placed
Our customer support is available Monday to Friday: 8am-8:30pm.
Average answer time: 24h
View All FAQs
Have more questions? We're here to help!
Shop Our Award Winning Products
View all