Make interest free payments with Affirm.
With Affirm, you can choose the monthly payments you like best - with no late fees or surprises. Just select Affirm at checkout.
Shop Now
Buy with Affirm in 4 easy steps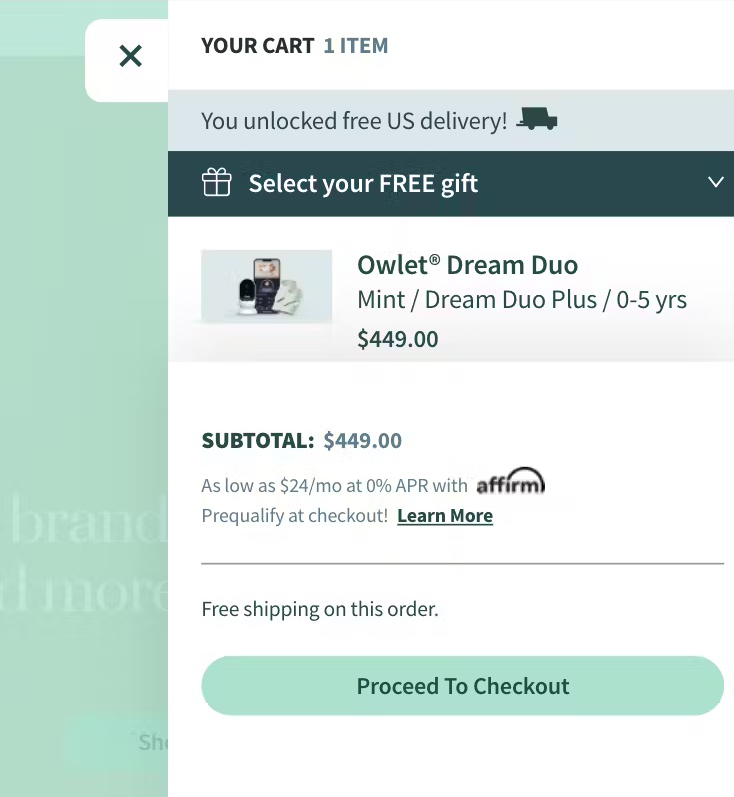 1. Fill your cart with Owlet's award winning products
2. Complete your purchase by selecting Affirm at checkout
3. Enter a few pieces of info for a real-time, instant approval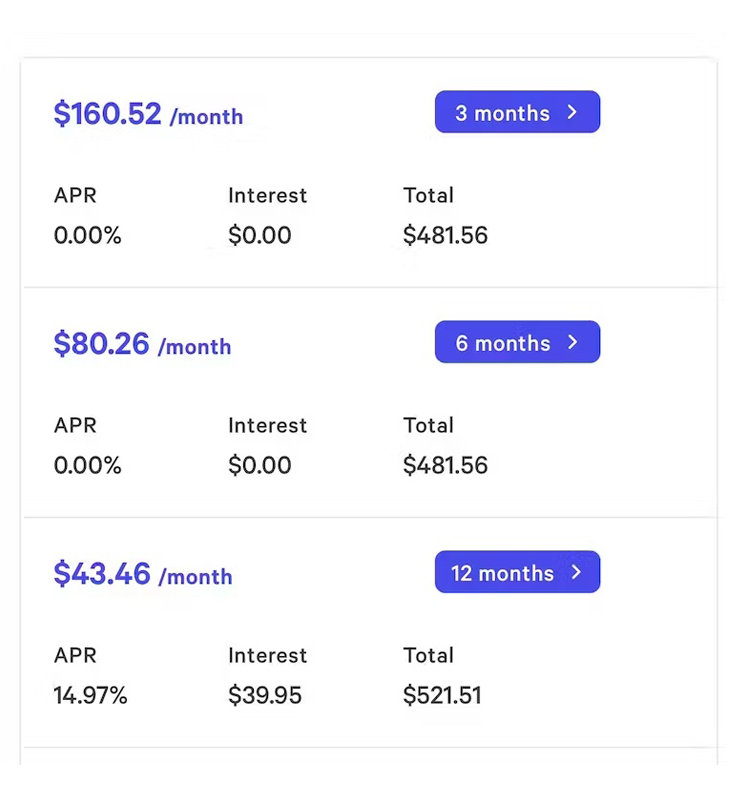 4. Select the monthly terms that fit your needs
What is the Affirm payment plan?

Affirm provides a way for you to make payments on your Owlet. Your Owlet order will process as soon as you complete the checkout process.
How long will my payments last?

You can choose how long your payments will last. Affirm offers a 3, 6, and 12 month payment plan.
Are there any interest rates I should be aware of?

Qualified applicants may be offered a 0% APR financing option. Those who are not qualified will pay a rate between 10-30% APR depending on your credit score.
What does 0% financing mean?

This means you will not pay any interest on your Owlet product(s). When you are finished making your payments, your total out-of-pocket cost will be the cost of the item, plus tax and shipping.
Are there any hidden fees or charges with the 0% APR financing?

No, Affirm does not have any hidden fees or charges.
How long does it take to get approved through Affirm?

Affirm approves the loan instantly and your Owlet order will begin processing immediately.
Do I get my Owlet product(s) right away or do I have to wait until I finish my payments?

You do NOT have to wait to receive your product(s) until after your payments are finished. When you purchase from Owlet and set up a payment plan with Affirm, your Owlet order will process and ship as if you paid in full.
Where do I make my payments?

Your payments will be made through the Affirm website. They will send you reminder emails when your payments are due.
Our customer support is available Monday to Friday: 8am-8:30pm.
Average answer time: 24h
Shop Owlet >